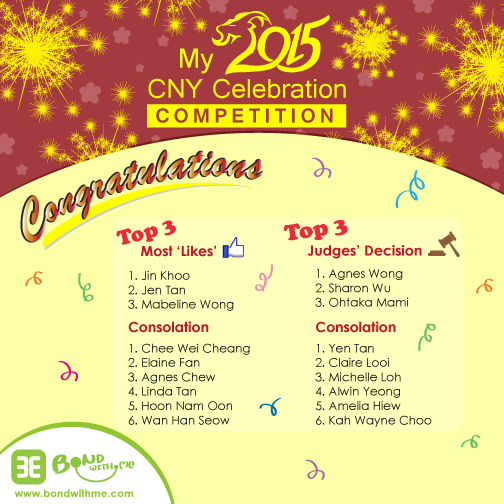 Congratulations to Jin Khoo, Jen Tan, Mabeline Wong for being the top three most LIKE winners.
The 6 consolations for the most Like photos are Chee Wei Cheang, Elaine Fan, Agnes Chew, Linda Tan, Hoon Nam Oon and Wan Han Seow.
Congratulations to Agnes Wong, Sharon Wu and Ohtaka Mami for being the winners by judges' decision.
The 6 consolations by judges' decision are Yen Tan, Clare Looi, Michelle Loh, Alwin Yeong, Amelia Hiew and Kah Wayne Choo.
We would like to say a big thank you to everyone who has participated in the BondWithMe My 2015 CNY Celebration Competition.
Please stay tuned for more competitions in the near future. May you have a Happy Goat Year ahead!